Geotextile fabric is permeable fabric. Being a special fabric, it has the ability to separate, filter, reinforce, protect or drain when used with soil. Typically made from polypropylene or polyester, Geotextiles come in three basic forms: woven, needle punched, or heat-sealing.
Geotextile composite materials have been introduced and products such as geogrid and mesh have been developed. Geotextiles can withstand many things and they are durable. Generally, these materials are referred to as geosynthetics. Additionally, they can provide benefits in Geotechnical and environmental engineering design. Geotextiles and related products have many applications and currently support many civil engineering applications such as roads, airports, railways, embankments, retaining structures, reservoirs, canals, dams, bank protection, coastal engineering and construction site silt fences or geotubes.
Usually Geotextiles are used to strengthen the soil and they are placed on the tension surface. Erosion control can be obtained with these Geotextile products. Units filled with geotextile sand offer a "soft" armoring solution for high terrain protection. Geotextiles are used as mats to stabilize flow in stream channels and swarms. In addition to improving soil strength, geotextiles may cause a lower cost than other products. Also, Geotextiles allow planting on steep slopes and further stabilizing the slope.
Geotextile Fabric Usage Areas
People who want to use geotextile products may ask the following question: what is geotextile fabric used for? Let's see these usage areas together!
Non-woven geotextiles are an ideal filter material with their non-woven structure. It is easily possible to make French drain channels, terrace garden drainage, land drainage, and perforated pipe covering with geotextiles. It also provides the required drainage in these difficult applications with its high in-plane drainage capacity in vertical applications such as tunnels or retaining walls.
Before pouring the new wear layer on the old asphalt, an asphalt felt-free polypropylene geotextile application is absolutely necessary. When geotextiles are used under the new wear layer, it delays the reflection of the cracks below to the newly poured wear layer.
On Weak Grounds and Roads
It is necessary to ensure that the foundation material sinks into the weak ground and stabilize the ground in the structures that are planned to be built on weak ground. Otherwise, permanent damage may occur depending on the type of structure as a result of unexpected situations. For this reason, geotextiles to be used under the foundation in weak soils act as a separator and reinforcement material, stabilizing the ground and reducing the risk of unexpected different situations.
In coastal structures, geotextiles are used as a filter and bedding material to prevent the movement of filling materials due to wave movement. The geotextile used in such applications effectively separates the coarse and fine filter materials, and prevents the fine material from mixing with the coarse material with the suction power arising from the wave movements.
Geotextiles are applied on thermal insulation on roofs in two ways: as a protector of thermal insulation material and as a separator and filter layer between layers. It has high puncture resistance and allows use just above the thermal insulation. Thus, it protects the materials under the geotextile from impacts.
In the base of a building, the risk of perforation of the insulation material is high due to the pressure effect. For this reason, it is necessary to use geotextiles that will spread the pressure. Geotextiles also allow the insulation to work freely during movements in the building and prevent the insulation from having an impact during movements.
Geomembrane applications that are generally open field applications, are applications with a high risk of rupture or damage due to puncture and excessive friction. For this reason, geotextiles protect the geomembrane under the geomembrane and on it according to the method to be applied.
Specific Usage Areas of Geotextile Fabric
Geotextile fabric installation can be made for specific purposes, also. We may list them as follows;
– Between ground and base on unpaved roads and airports
– Between ground and ballast in railway applications
– Between layers in landfills
– Between geomembranes and soil drainage layers
– Between base and fill soils
– In road fills, between base and fill soil
– Under walkways and pavements
– Under parking spaces
– On the floors of sports and athletic fields
– To create an aesthetic coating under precast blocks and panels
– In case of poor filtration, between the drainage layers
– In various parts of the dams
– Between the old and new asphalt layers
Geobera and Geotextile Fabric Prices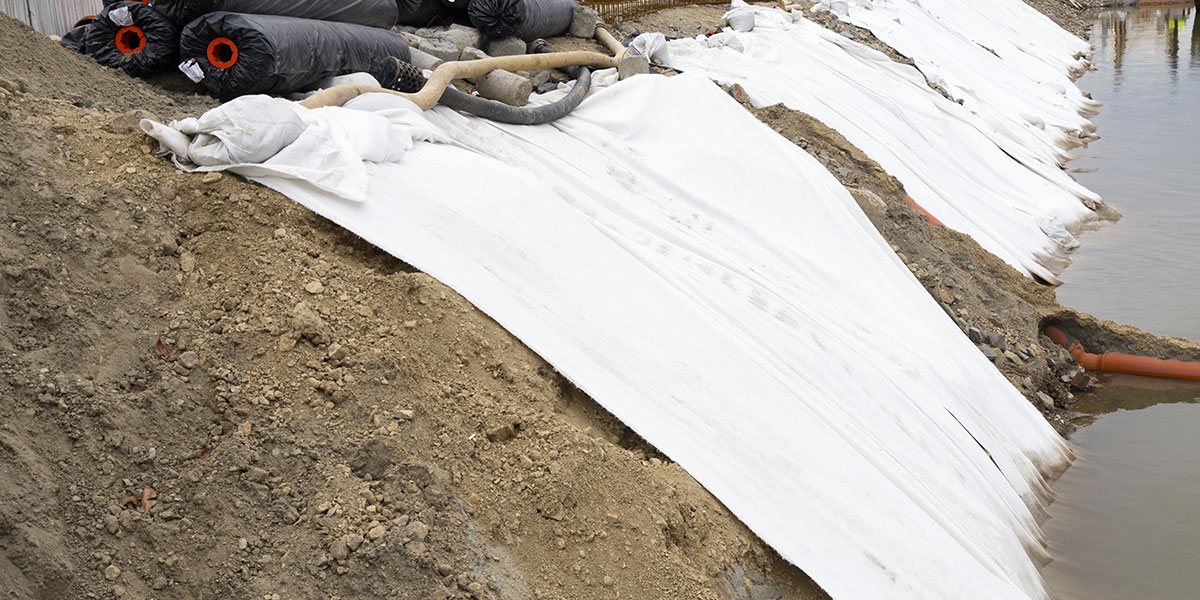 Geotextile fabric prices generally vary according to the features of the materials that are used. The average price of the product, obtained with relatively inexpensive raw materials and simple production technology, depends on the surface density. For this reason, it is not possible to give clear information about geotextile fabric cost.
If you want to work with us, you can fill out the form below for detailed information. As Geobera, we will get back to you as soon as possible with our experienced team!