There is no doubt that the sturdiness of a road is quite important. In high-sloped shelves, and emissions are also affected by weather conditions (rain, wind), which are difficult to maintain due to sheer stability. In addition to erection and landslides, there is a need for protection against landslides, especially in engineering structures that are important for transportation, such as roads and railways. Severe damage can occur, both in the case of erosion and in the case of land imbalance. There is a state of technology that is right there that is rushing to your aid: geocell. It also offers an advantage over motorway usage and more, noting its three-dimensional design.
What is a Geocell?
Geocell is a three-dimensional cellular structure that can be filled with soil, gravel, or other materials to balance steep slopes and prevent erosion. It is composed of high-density polyethylene (HDPE) and has an open cellular structure that allows it to adapt to the terrain. A geocell is a great part of technology as a product that can provide a variety of benefits. Whether you want to balance the soil, prevent erosion, or create a new surface for parking or sports, geocells have the potential to do it all.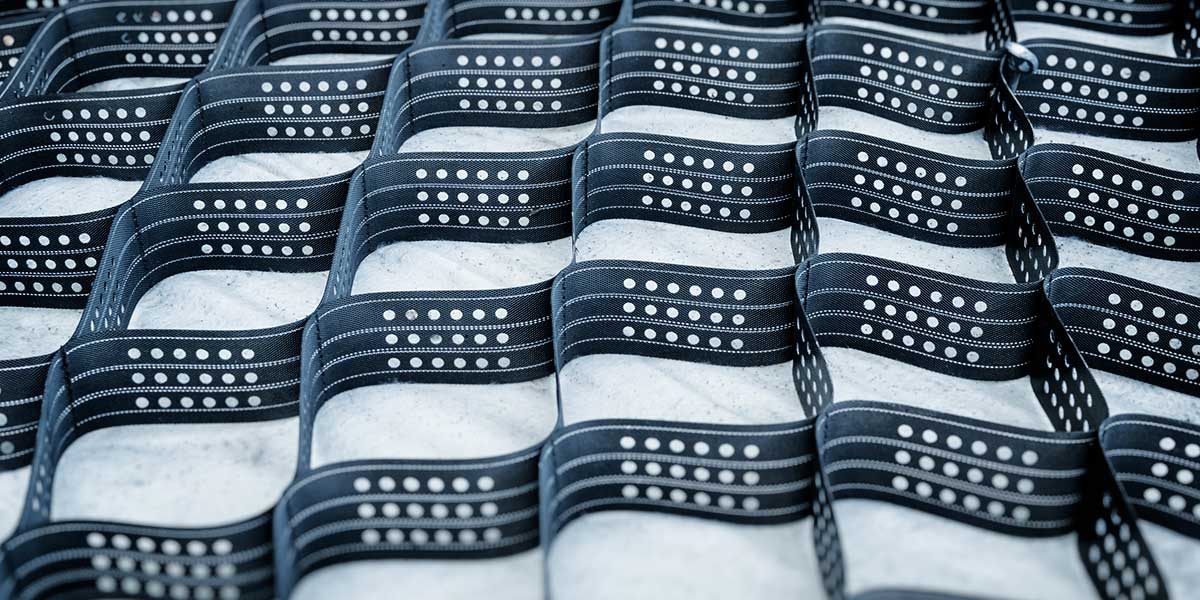 These three-dimensional cellular structures can be expanded during installation so that they form flexible walls with interconnected stripes and strengthen the force of tension. It also prevents motion by keeping the ground stable in compression and shifts that are caused by environmental factors such as weather. Geocells have many different functions, with high-quality designs. So you can install geocell driveway with peace of mind.
One of the main uses of geocell is to preserve structures. For example, large companies use geocells as protective bonds to protect their hydraulic structures and various industrial equipment. The geocell acts as a composite material with the ground, locking the filling material inside, and reduces distortions by spreading the load further in the space.
Geocell Usage Areas
Road construction
Balancing and reinforcing the infrastructure of tracks in soft and resilient lands
Channel Protection
Airport Roads
Soil Balancing
Engineering structures such as open channel, stream, pond, and coastal protection
Conservation and stabilization of perpendicular slope surfaces
How to Install the Geocell Highway?
Steps that must be taken during the geocell driveaway installation for land stabilization are as follows:
Preparation of Land
First, it is necessary to prepare the surface on which the geocells will be placed. The soil is flattened. The depth and completeness of the hole dug to place geocells varies depending on the size and width of the geocells. When the floor is ready, the geotextile should be placed. Geotextile is a barrier between geocells and soil. It helps to keep soil and geocells stable.
Expansion of Geocells
You should expand the geocells depending on the area it occupies and how many geocells are to be placed. Make sure that the geocell ground grid is fully expanded or if the geocells are not fully opened, there is not enough size to cover the entire area.
Filling the Geocells
Geocells are filled with filling materials and then compressed onto the surface.
Geocell System Benefits
Geocell can be used to make permanent and temporary roads.
The system reduces the amount of surface water and regenerates underground water supplies.
Protected areas can be covered by vegetation, which is an extremely useful solution.
Geogrid driveway installation allows the emission of the railway underpasses and prevents vertical and horizontal vibration.
It prevents streams from forming and extends the life of rails and crosswalks.
It has the perfect potential to be used as an affordable solution to many technical problems.
Modern construction methods extend the application of the soil retaining wall powered by geocell, which contains new coating elements.
Reduces construction time and costs and enables better aesthetic conditions for the end structure.
It is easy to set up and logistics with the accordion structure. It does not require special labor during implementation.
It provides natural drainage through its specific hole structure.
Enables unsuitable for plant growth and plant growth on sloped terrain. This ensures erosion control and increases the tilt balance.
2023 Geocell Price
Geocell price vary depending on the specifics of the material. Price varies depending on source clearance, height, and ribbon width. It is important to determine the considerations that will cause a future price override before the order. We at Geobera, offer you the best quality products at the most reasonable price. Fill out the form below for more details. Our professional and expert team will be happy to answer any questions.